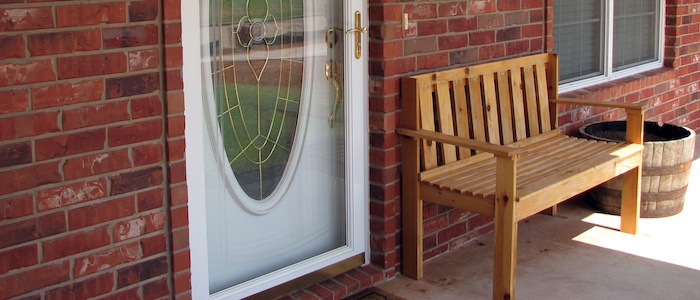 There are many benefits of installing a Storm/Screen Door to your home. Energy efficiency is increased due to the slowing down of air and elements before they enter the home. Storms doors also protect Entry Doors from weathering. In the warmer months, most have screen options to pick from that will increase the home's air circulation.
Storm Doors are made from either all aluminum, or a wood core frame with a protective skin. All aluminum frames usually cost more, but are the best when it comes to longevity. They are a great idea when the entry way is subject to weather and is not protected by an overhang or structure.
There are different options to pick from depending on what kind of curb appeal and functionality you would like. There are many color and design choices for the Storm Door frames to match your home. Most manufacturers also offer a variety of hardware styles and finishes that will match your Entry Door hinges and knobs/handles.
From a functionality standpoint, it all depends on what you want to achieve with air flow and curb appeal. If your Entry Door is the focal point, a full glass/full screen option is good option. The advantage of a full screen and glass panel is that you don't have to worry about any obstruction of sight. They are also interchangeable and allow maximum air flow. Mid view glass screen doors typically come with two sliding glass panels and one fixed or sliding screen panel.
Need help choosing the best option for your home? Contact Shoreline today!