Type of Windows
VinylMax
Our selection of Edison by VinylMax Windows are versatile, high performance and classic in design. These windows

feature IdeaSeal™ triple weather protection, multi-chambered vinyl construction, low-profile tilt latches and so much more.
ThermalWeld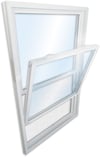 Our selection of ThermalWeld® Series 7000 windows are Polaris-designed American traditional windows. They offer tough Polaris vinyl and welded corners for superior strength. 7/8 insulated glass lends comfort and energy savings. Cleaning these windows is easy with the top and bottom sashes that tilt completely inside. Click to learn more.

UltraWeld

At Shoreline Window & Remodeling, we provide Polaris UltraWeld® replacement windows as part of our Ultimate Window and Door system. Combining maximum thermal efficiency with beautiful looks and a variety of style options, these windows can greatly improve the look of your home. UltraWeld windows are ultra strong, ultra efficient, clean up ultra easy, and are backed by an ultra warranty. Click to learn more.
DynaWeld

Our selection of DynaWeld® windows are made from premium vinyl and can retain a fantastic appearance for a lifetime. We also use a True-Position® Balance System that moved smoothly and quietly. These windows are also have cam action lock and keeper, as well as being air tight. Click to learn more.
---